Since 1997, Victoire Ingabire Umuhoza has been involved in the struggle of the Rwandan political opposition in exile. Umuhoza has been quoted as saying "My objective is to introduce Rwanda to the rule of law and a constitutional state where international democratic standards are respected, where patriotism will at last be the cornerstone for all public institutions."
Her political activities are centered around the idea of a state of justice where individuals choose their associations based on their shared political aspirations rather than their ethnic or regional background. She has also been vocal in calling for more women's empowerment in Rwanda.
In 1997, Umuhoza joined the Republican Rally for Democracy in Rwanda. A year later, she became the President of its Netherlands branch and in 2000, she was nominated President of RDR at the international level.
From 2003 to 2006, she occupied the post of President of the Union of Rwandan Democratic Forces UFDR (French: Union des Forces Démocratiques Rwandaises), the main coalition of political opposition parties and personalities in exile, of which RDR is an active member.
On her return to Rwanda in 2010, she attempted to register her party and run as its candidate for presidential elections. The registration of her party was denied by the Rwandan authority and she was sent to jail with charges ranging from divisionism to terrorism
Unification of the democratic opposition
The fight for a unified political opposition in exile dominated her political career. The Rwandan Patriotic Front (RPF) continued to monopolize power in Kigali, criminalizing, persecuting or co-opting any resistance. Inside the country, opposition to the RPF-led regime in Rwanda is almost non-existent. Only diaspora-based associations were able to mount an opposition attempt to Kagame regime but divisions and political rivalries in diaspora did not make this possible. In favor of fundamental change and reconciliation, she gradually changed the pace of the struggle towards a unified opposition with peaceful means [8] to stand up to the challenge of offering to Rwandans an alternative to Paul Kagame's regime.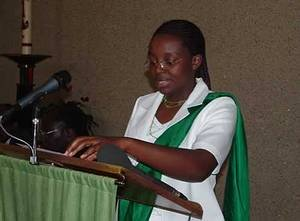 In November 2004, in Amsterdam, Netherlands she organized a conference known as the "Forum on Peace, Security, Democracy and Development in the Great Lakes Region" which was followed by the Amsterdam Initiative with the aim to create the new platform for cooperation.In October 2005, Victoire initiated contacts with other opposition organizations and organized an all-inclusive meeting for all Rwandan civil society associations and political parties. A consensus of common front against Paul Kagame's regime was finally reached.
Starting from April 2006, she participated in the creation of the United Democratic Forces (FDU) and was elected President of the political platform. FDU has a goal to install the rule of law in Rwanda, underpinned by the respect of democratic values enshrined in the universal declaration of human rights and other international instruments relating to democracy and good governance.Victoire actively participated in Highly Inclusive Inter-Rwandan Dialogue (HIIRD) project in Barcelona, Spain in 2004, 2006 and in April – May 2009 under the auspice of Mr. Juan Carrero Saralegui, the Peace Nobel Prize candidate and of Mr. Adolfo Pérez Esquivel, the Peace Nobel Prize and Mr. Federico Mayor Zaragoza, the Vice-president of the Alliance of Civilization.
She proposed following emblematic reforms calling for change in daily life of all Rwandans and the way they relate to politics: Creation of a Committee of Truth, Justice and Reconciliation to help Rwandans towards true reconciliation; Introduction of a non-political commission in charge of rewriting and interpretation of the actual history of Rwanda; The passing of a bill for the right to private ownership and for protection of the weakest members of the public, for the guarantee by the law of equal opportunity and access to credit and employment for all citizens.
One month after she arrived back in Rwanda in January 2010, together with other two political opposition party leaders already in the country, she formed a Permanent Consultative Council of Opposition Parties, putting together their efforts to widen the political space for the opposition parties and to strengthen the democratic process in Rwanda.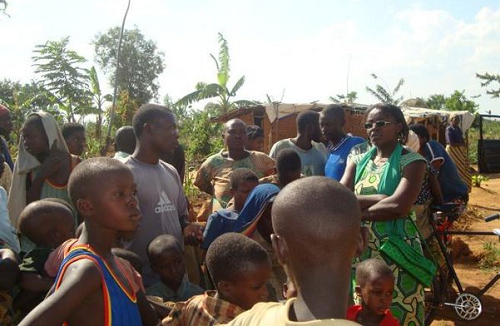 Peace, stability and reconciliation.
I don't want to see any more Rwandan being killed as a result of his ethnic, religious, region or political origin. I don't want to see any more Rwandan seeking asylum abroad, or living in makeshift camps around Africa or being hunted like animals in neighbouring countries. I want an independent judiciary and state machinery that pays allegiance to a cause, a nation, and no more to an individual or political organisation. I want a Rwanda where there is a rule of laws and equal economic opportunities. This is my dream.