Call for International mobilization to free Ms. Ingabire Umuhoza and all other political prisoners in Rwanda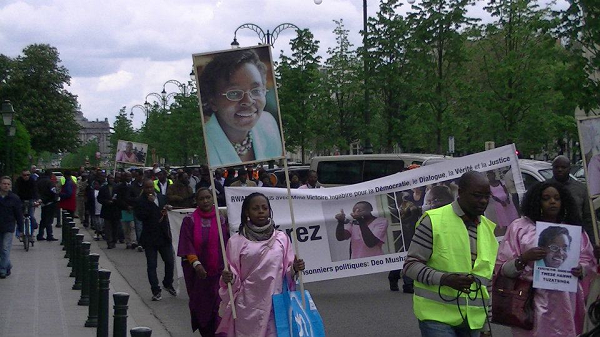 On Monday 16 April 2012, Ms. Ingabire Umuhoza, leader of UDF-Inkingi, held in Kigali (Rwanda) since October 2010, decided to withdraw, with immediate effect, from the kangaroo trial opened for more than six months before the High Court of Kigali. This decision followed the refusal by the prosecution and the court to hear a key defense witness who had exposed the manipulation of the case by the prosecutor, but also fake evidence and other miscarriages of justice. Ms. Ingabire Umuhoza lost confidence in justice and decided not to attend the hearings. The High Court, which was to rule on this decision, followed the prosecutor's plea, as is the case since the start of the trial, and ordered to go on with the trial in the absence of the accused.
A few days after this decision by Ingabire Umuhoza, the prosecutor submitted his summary in which he requested life imprisonment against her (see Rwanda: prison à vie requise contre l'opposante Victoire Ingabire, Steve TERRILL (AFP), 25/4/2012). The Court must give its verdict on June 29, 2012.
 While the death penalty is theoretically abolished in Rwanda, it is replaced by imprisonment in isolation, a practice condemned by international organizations of human rights (see Rwanda: Briefing to the UN Committee against torture, May 2012 ). Furthermore, the conditions of detention themselves in Rwandan penitential institutions amount to a permanent torture, and that's what Ms. Ingabire is subjected to, since her arrest. So is the case with Deo Mushayidi.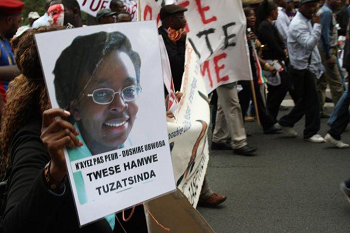 Some voices say that one should not comment on the trial before the verdict is read. But the verdict seems written in advance by the executive that has continued to interfere in the trial.
If the international community is reluctant to condemn the conduct of the trial, will it do it once Ms. Ingabire Umuhoza will have been sentenced? Join us by signing this petition, requesting the intervention of the international community  for the immediate release of Ingabire Umuhoza and all prisoners of conscience.
By signing this petition, you will help enforce basic human rights in Rwanda.
Join protests around the world