Supreme Court fresh summon may stay proceedings against the political prisoner Victoire Ingabire.
The Rwanda Supreme Court has summoned Madame Victoire Ingabire for 19 July 2012 to re-open, on demand of the defendant, proceedings on the constitutionality of contentious genocide ideology and divisionism laws. According to Rwandan laws, such a move stays proceedings in lower judicial institutions. Meanwhile the High Court has not yet notified the defendant of any measure to postpone its verdict due tomorrow on 29 June 2012. Stayed or not, neither the political prisoner, nor any of her lawyers will seat in the courtroom for the kangaroo verdict because she has withdrawn from the proceedings in the High Court since 16 April 2012 after a scandalous intimidation of a key defense witness.
The ORGANIC LAW N° 01/2004 ESTABLISHING THE ORGANISATION, FUNCTIONING AND JURISDICTION OF THE SUPREME COURT (O.G Nr. 3 of 01/02/2004) in its article 97, § 2&3 stipulates that: "Reference of a constitutional issue to the Supreme Court for a ruling stays all court procedures and the running of the time set for instituting cases and prescription until the decision of the Supreme Court is communicated to the lower subordinate court seized with the main case.
However, a subordinate court seized with a case is not obliged to stay proceedings and wait for the ruling of the Supreme Court on the constitutional issue if it is of the opinion that the case is inadmissible on grounds unrelated to the constitutional issue or the judge hearing the case is of the opinion that the decision of the Supreme Court will not in any event affect the outcome of the main case. The decision not to stay proceedings may only be appealed against simultaneously with an appeal against judgment in respect of the main case".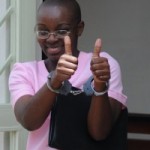 A prison sentence against the political leader Victoire Ingabire will have serious consequences in Rwanda and the region. Silencing democratic voices with little or no international reaction is a consecration of the rule with an iron fist by "strong men" in Africa, and a slap in the face of the free world and the international civil and political rights.
Rwanda is at a cross roads. We keep in mind the report on direct military backing of armed groups and war criminals in the Eastern DRC by the Rwandan government as overwhelmingly substantiated by the findings by the United Nations experts monitoring violations of the Congo sanctions regime. We express our solidarity to the Congolese innocent citizens and call upon the government of Rwanda to take every step to clear this scandal before vying a spot in the security council for 2013. All military leaders pinned by this report should take accountability for their actions.
We call upon all members and friends of FDU-INKINGI to remain calm and peaceful.
FDU-Inkingi
Boniface Twagirimana
Interim Vice President